According to a press release from Somaliland's Ministry of Defense, Somaliland armed forces have successfully thwarted a terrorist attack planned by a group of six individuals affiliated with an unidentified terrorist organization. The attack, intended as a suicide mission, was disrupted when the explosives prematurely detonated in the village of Sili-xawle killing two of the attackers, while the remaining four remain at large.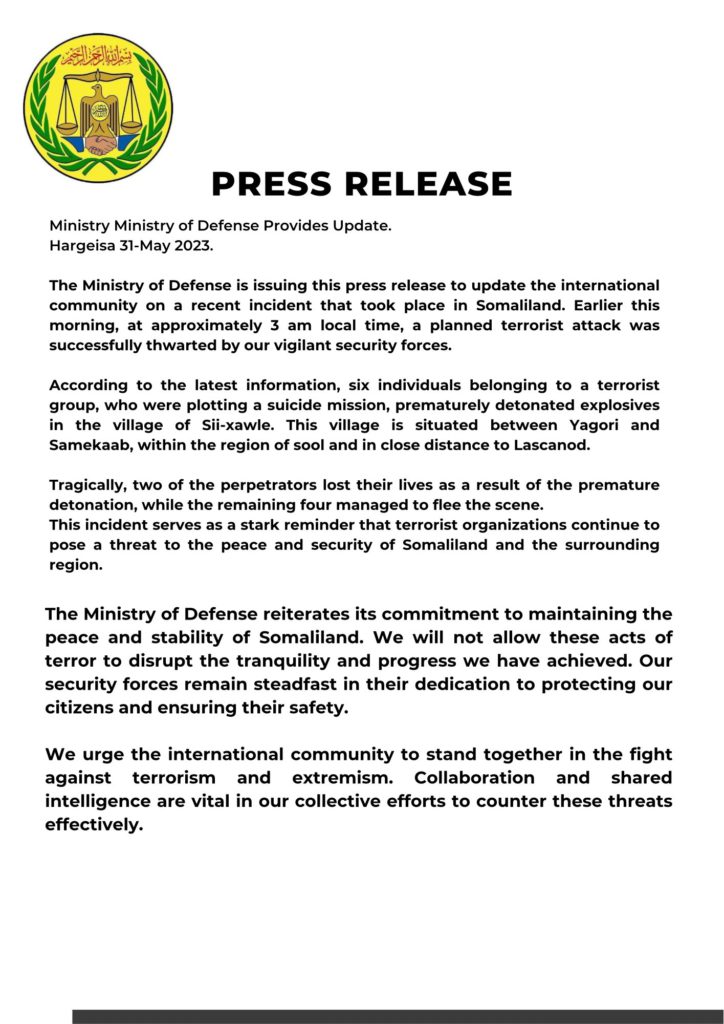 At the scene where the attackers died, members of Somaliland military recovered bomb components, including what appears to be a plastic explosive brick along with batteries and other bomb making materials. Sources who did not want to speak on the record on the ongoing investigation stated that focus on the source of the explosives such as country of origin, manufacture date and other important details that can help pinpoint its source. Sources add that Somaliland government is willing to share this vital information through intelligence sharing to help allies prevent future terrorist attacks.
Although Somaliland has been successful in holding terrorism at bay, the incident serves as a stark reminder of the persistent threat posed by terrorist organizations in Somaliland and the wider region. It highlights the need for continued vigilance and collaborative efforts to counter terrorism.
The last major terrorist incident was in October 2008 when multiple coordinated terrorist attacks in Hargeisa killed more than 20 people and injured dozens at the Presidential Palace, the Ethiopian Consulate and the UNDP offices.
The Ministry of Defense, in its statement, has affirmed its commitment to protecting the public from such threats. In addition, the ministry has called on the international community to stand with Somaliland in the fight against terrorism, emphasizing the importance of shared responsibility and cooperation.
What exactly transpired at the site of the explosion that killed the terrorists is unclear and if the attackers explosive detonated following a confrontation by Somaliland's military who are operating in the area. Other unconfirmed reports state the purpose of the attackers was to blow up roads and bridges to cut off the army supply lines.
Although the only casualties are the attackers, the incident vindicates Somaliland government's repeated assertion that known terrorists and Turkish and US trained members of Somalia armed forces have poured in Las Anod to fight its military.
Despite claims by Somalia's government of successfully degrading Al-Shabaab's fighting capacity, the terror group has been increasingly active and decimated an African Union garrison in in Bulamarer, Somalia, on Friday. The attack reportedly lasted for hours and resulted in heavy casualties on both sides. Al-Shabab claimed to have killed 137 soldiers, but there has been no official confirmation of this number.